Say you. Not so, say I. There is nothing crappy about the fantastic TAM Merchandise that I purchased for myself at the TAM Holiday Café Press Store.
In fact, here is a picture of some of it.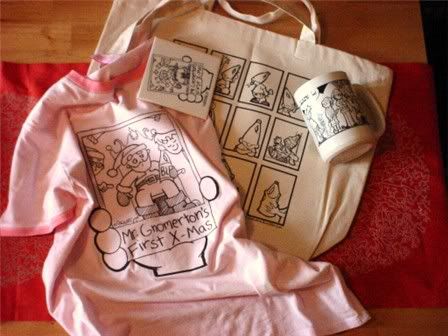 That, my friends, is a
Mr. Gnomertote
(for all your notable totables), a
Mr. Gnomerton's First Christmas women's ringer tee
(festive), a
Magic of Christmas large-sized mug
(perfect for drinking coffee with those new holiday flavored creamers from Coffee Mate – I recommend the Pumpkin and the Peppermint Mocha – they're quite tasty) and a
Mr. Gnomerton's First Christmas tile coaster
(because getting a wet ring on your IKEA furniture can be deadly).
All of these fine products came quickly and are of a quality much higher than I actually expected. Really, what do you expect from a "make-it-as-it's-ordered" online store? But don't be scared. There's a reason that Café Press has done so well for itself. They sell good crap. It's just the quality of the actual images printed on that good crap that's the gamble. And since you already know the quality of the TAM Cartoon there should be no fear.
Wait. Forget about the quality of the TAM Cartoon. Go ahead and order some junk. It's reasonably priced.
What's with this constant sales pitch, you ask? Are you trying to make money by guilting your friends into buying stuff?
No.
Is this some kind of pyramid scheme, you wonder?
No.
Are you just some kind of horrible narcissist?
Well...
Duh.
Fun Fact:
Thanksgiving is tomorrow. I just wanted to remind you in case you'd forgotten. I don't want to hear
"dude, I totally spaced on Thanksgiving this year! Why didn't you remind me?!"
It's tomorrow – weirdo.