I'm not really wiser, but I do have vacation pictures for you. Lucky you!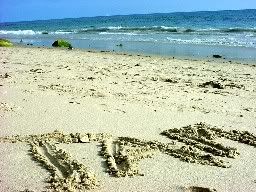 I had a good time on my mini-vacation yesterday. It was more driving than anything else, but we visited a few places.
The first stop on the Orange County tour was Fashion Island in Newport Beach. It's a mall. These are the times in which we live people. We vacation to malls. So what. Plus, it answered that age-old question
"what is new wave rock group the FIXX doing these days?"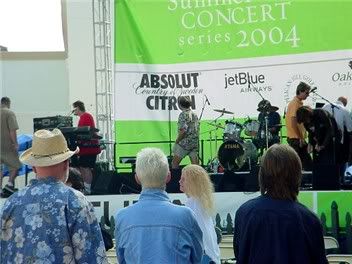 Why they're playing at an upscale mall in Newport Beach, of course.
We didn't get to actually see the FIXX play a set, but we did see them do a sound check. I tell ya', it's nice to see such notable and legendary musicians doing their own sound check. I guess even roadies won't make the mall circuit.
Some pictures of Fashion Island.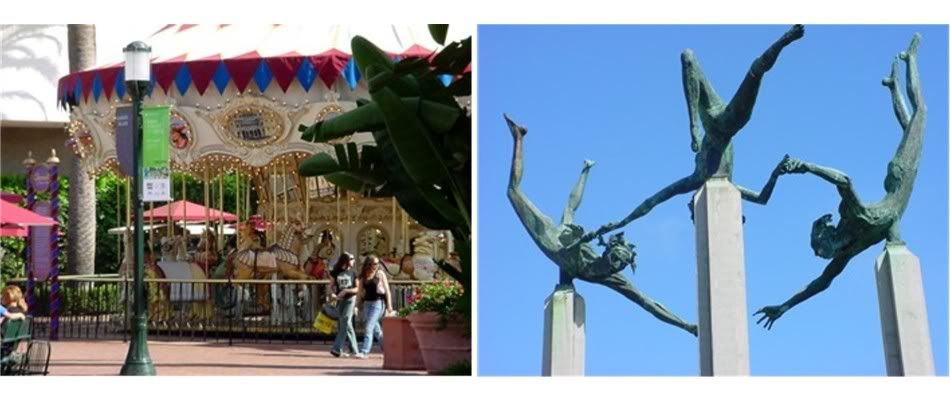 This place has changed since the last time I was there. I guess it would have to, because the last time I was there was in 1990. Incidentally, I acquired my first pair of quality sunglasses at this mall. Ray-Ban Wayfarers. Tortoise shell. I found them on the ground. I was the coolest fat kid at Pasco High. Back then, Wayfarers were cool. John Belushi and Dan Aykroyd wore them as the Blues Brothers. But, though I may have been fat, I was no John Belushi. He may have been high most of the time, but even he wouldn't wear a pony-tail. I was tortured by 80s fashions.
I kicked the expensive sunglasses habit, but only after I broke six pair of them.
Anyway, after we left Newport Beach, it was just a short drive to Laguna Beach.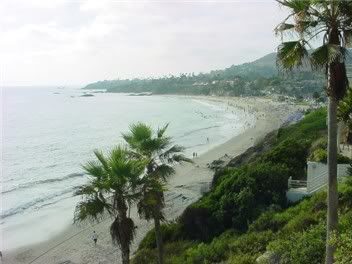 It's a nice place. We only stayed an hour. See, the Laguna treasurer counts the city's income 25 cents at a time and we didn't have a lot of quarters.
If you've never been to Laguna, the town is overrun with parking meters. Parking meters and art galleries. Both of which are overpriced.
So we did our beach thing, we walked, we talked, I got mad because Tanya made me get too close to the ocean and I got my pants wet…
Next, it was back up the coast to Huntington Beach and Chili's.

It was a fine dining experience. Tanya, as per request, I'm taking this time to remind you never to order the fajita quesadillas again. There.
That's it really. So…bye.
Fun Fact:
In Newport Beach, at Fashion Island, hanging from the side of a Robinson's May is one of the great wonders of the world.
"The world's largest WIND CHIMES!"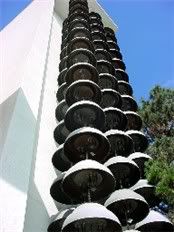 As you can see by the picture (if you have really good vision), it's actually just a crap-load of the "world's most average sized wind chimes." But the effect is good. I mean, I took a picture of it didn't I? Of course I have 10 pictures on my computer of my
dumpster…
But it was still cool. An unexpected treat.
Now, we just need to find the world's largest rattan chair, bamboo screen, novelty windsock, and hibachi!